Testimonials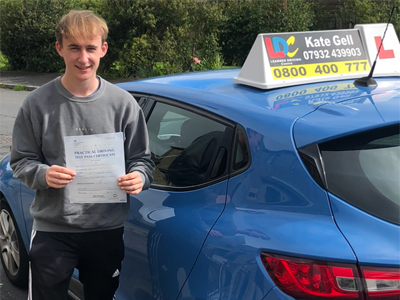 Harry Crook
Passed 1st time
I started my lessons at the start of the year. Unfortunately COVID-19 disrupted this. My lessons were therefore canceled while it was not safe to be in a close environment. During this period I was always getting updated on the situation regarding my lessons from Kate. We resumed lessons once it was safe to do so and I always felt in a safe environment whilst in the car. COVID-19 did not get in the way of my progress during lessons and thankfully I passed my test first time. Kate put unbelievable time and effort to get me ready for my test in a short period of time. I would definitely recommend her to any new drivers.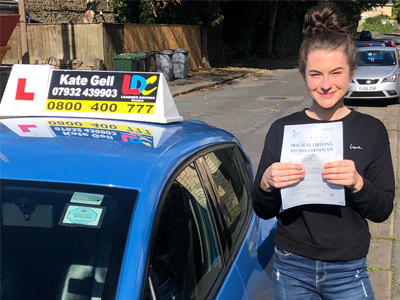 Sarah Byrne
Passed first time!
Kate was amazing! I started my lessons before lockdown and managed to get an Emergency test as I'm classed as a key worker. Kate has so much patience and really helped me with the nerves. Would definitely recommend Kate to anyone wanting to learn to drive, she's a star!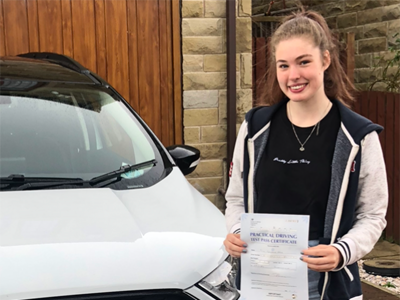 Georgia Hair
Passed first attempt
Kate was an outstanding instructor and really helpful in getting me to pass my test first time. I started my lessons before lockdown and managed to get a test after. If I struggled to get something right Kate would show me what I needed to do in order to get it right. Her explanations when teaching are also really good. The workbook was also really helpful as I could "revise" how to drive and the explanations in there were really clear. The pictures really helped too.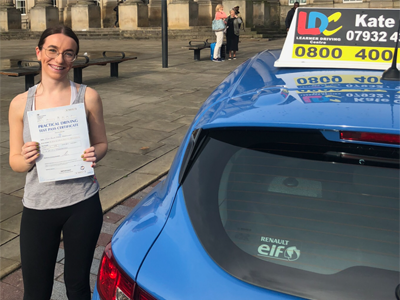 Annie Greenwood
So pleased to have passed!
Kate was really helpful throughout the whole time I was learning. She always answers every question clearly which really helped. She was also good at showing me demonstrations of what to do which I found really helpful. Following passing my test we did a Motorway lesson, I can see how vital it is to have one, it's taught me show much. The workbook was really helpful, it was great for keeping track of what and needed to do and my overall progress.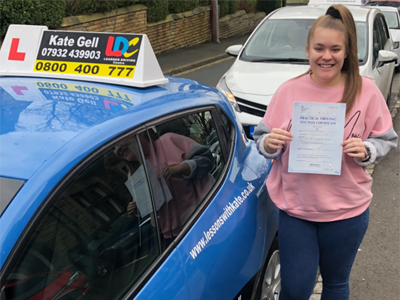 Paige Tinsley
Delighted!
Kate is an amazing instructor, she has a lot of patience, and does everything in easy steps so you understand it all step by step. The workbook had everything you needed to know. I would definitely recommend Kate!!!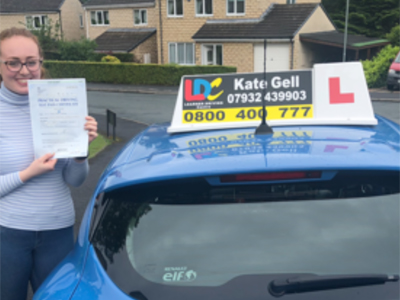 Leah Carver
Thank you Kate!
Kate was such a fantastic, patient Instructor and I couldn't have had a better coach. The lessons were always enjoyable and she always gave me positive feedback. Kate answered all my questions clearly and really gave me confidence. I will miss having lessons with her! The LDC system worked brilliantly for me- I used the workbook often, both during and between lessons. The DVD is helpful too, to review learning between lessons also. All in all, I've had a fantastic time learning how to drive with Kate and LDC and can't recommend her enough!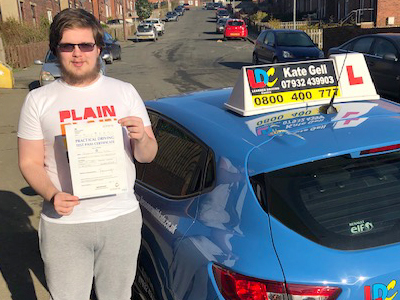 Ben Hutton
Passed first attempt!
Kate is a friendly Instructor who is very clear with her coaching and makes learning to drive really easy to understand. I would happily recommend Kate to any of my friends that are learning to drive! Thank you Kate!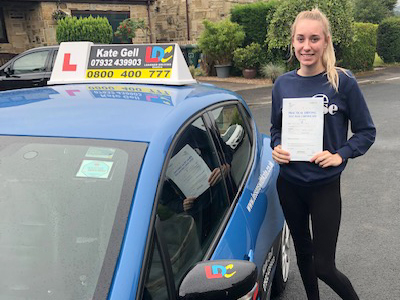 Leah Hollings
1st time pass
Kate was very helpful, when I wanted something to work on, we worked on it. She was also very good at replying to my messages with regards to lessons. The workbook was very helpful and visual aids she used in lessons were too. Overall, I really enjoyed really enjoyed learning to drive and Kate really made the experience a joy.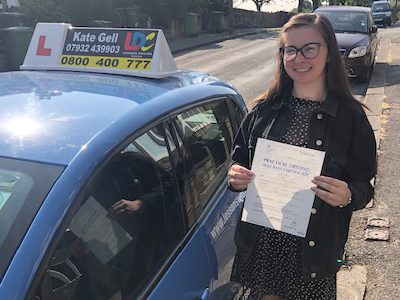 Chloe Rumsay
Woo hoo!
I can't fault Kate, she made me feel so comfortable. I was a very nervous driver and now I feel much more confident! The workbook was really helpful too!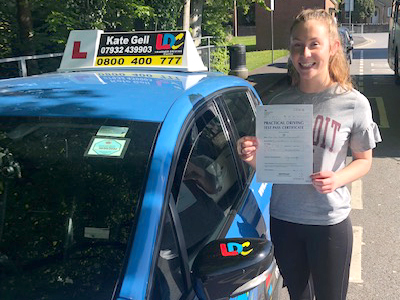 Jai Gomersall
Passed first attempt!
Kate made me feel at ease from the very first lesson and has helped me ever since. I didn't think that driving lessons could ever be something that I'd enjoy - but I have! The workbook was great for extra revision and Kate cleared up anything I was unsure of. Thank you Kate!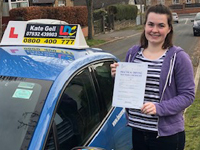 Roseanne Pashley
1st time pass
After having some lessons with another instructor and stopping for over a year, I was apprehensive about starting lessons again. However, I have really enjoyed my lessons with Kate. She helped me gain confidence and I felt like I had made progress after each lesson. Kate is friendly and approachable with any questions I had throughout my lessons. Thank you Kate!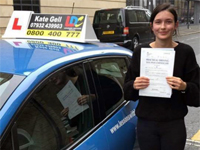 Tara McHugh
1st time pass
Kate was a great instructor, really patient and calm and explains things clearly. I really enjoyed my lessons and the LDC system works brilliantly!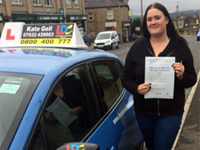 Gemma Taylor
Thank you Kate!
Kate was an amazing Instructor, I was really nervous for my first lesson and she made me feel at ease the minute I got into the car. She's a lovely lady and has lots of patience. Thanks to Kate I passed my test confidently with only 2 minors! Thank you for everything Kate xx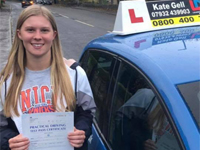 Stephanie Meachen
Passed first attempt!
The workbook and DVD's were really helpful to read over before each lesson, Kate was a brilliant instructor, she makes you feel at ease straight away and her guidance is second to none. I really enjoyed each lesson and would highly recommend Kate and the LDC system.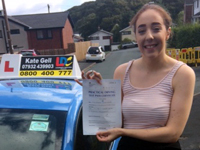 Eleanor Kilduff
I would 100% recommend Kate
I would 100% recommend Kate and also the Intensive course. I passed first time feeling confident and at ease on the road; if you have struggled with lessons before then this course is perfect for you! Thank you Kate and LDC! :)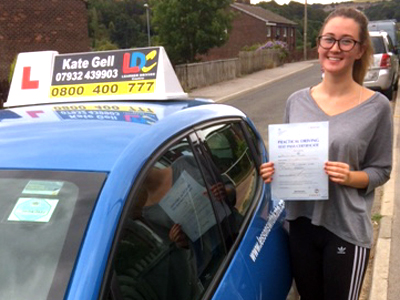 Lois Tatchell
1st time pass!
I came to Kate after having 10 hours with my first instructor and feeling like I wasn't getting anywhere. Kate was recommended to me by my friend and instantly I felt so much more comfortable with her. I couldn't have asked for a better instructor! We got on so well and her coaching methods were clear and thorough! I used the workbook and DVD's but found that the DVD's helped me more as I could visualise it better. I passed both my theory and practical tests, first time- all thanks to Kate!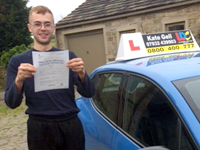 Laurie Smith
So pleased to have passed!
Kate was a great Instructor, made learning really enjoyable, easy to understand and clear. She is very patient and understanding. Would 100% recommend!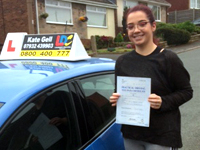 Lauren Downs
Woo hoo I've passed first time!
My instructor Kate has been incredibly supportive throughout my learning to drive experience. Kate is very reliable and organised and without her i wouldn't have passed first time. The LDC system is useful to read through on a weekly basis so you have an idea what you are doing in the following lesson. I found the DVD's most useful for maneuvers.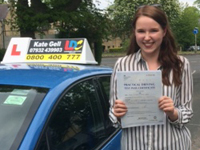 Kim Reed
Passed 1st time!
Kate was:
Patient
Positive
DVD=know what to expect
Coach-know why I'm doing things
Friendly
Consistent
Goes the extra mile to arrange lessons/ fit you in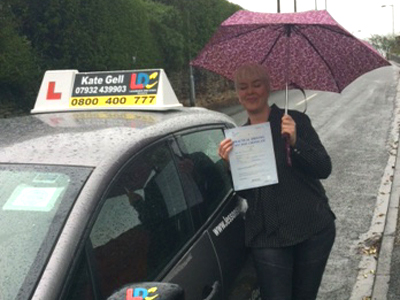 Marie Clarke
Delighted with my first time pass!!
I've been delighted with my LDC Instructor Kate from start to finish. Her expertise and guidance has been fantastic. Always clear and concise, professional, yet makes every lesson a fun learning experience. The LDC system itself has been extremely informative and helpful in guiding me through the course, the workbook and DVD's have been such an added help- reflecting after the lessons, making notes and using the LDC method has ensured a successful test outcome first attempt for me. I would definitely recommend Kate and the LDC driving system to anyone. -Thanks for all your hard work and support Kate, I've thoroughly enjoyed your lessons and the whole process of learning such a valuable skill, which will literally be life changing for me. Thank you so much!!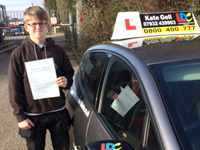 Sam Gee
Qiuck first time pass
Great experience overall, The LDC system combining workbook and DVD's worked well by improving my knowledge and I passed after just 20 hours of lessons. Kate was brilliant- really helpful in working with me to improve my driving in specific areas and knowledge to help and guide me along the way!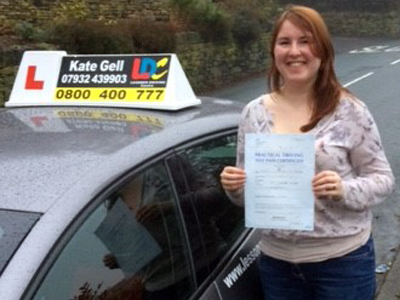 Emily Treece
Kate helped me overcome my nerves and believe in myself
Kate was an excellent Instructor, really calm and encouraging which was exactly what I needed as a nervous driver (initially). The LDC workbook and DVD system have been really helpful for reinforcing learning outside of lessons and helping understanding before trying something new.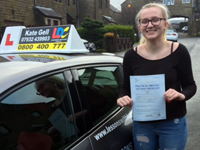 Lily Crook
Highly recommended
Kate was an amazing Instructor and I would recommend her to anyone starting driving lessons. I really liked the structured workbooks because they have lots of great information about the test and how to practice.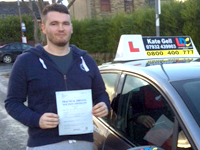 Luke Lodge
First time pass :)
Kate provided me with all the tools I needed to pass my driving test with ease. She was clear with Instruction, and her teaching method I perfect; calm, knowledgeable and patient with the student. I'd recommend Kate to anyone wanting to pass their driving test, she's a great coach and Instructor.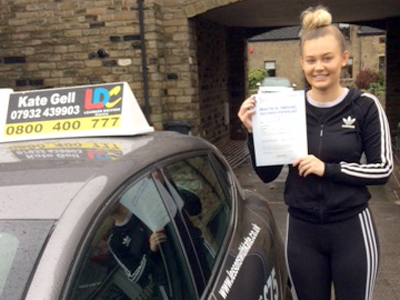 Alice Bunch
Can't wait to go car shopping!
I'd like to thank Kate so much! When I've been terrified to get behind the wheel Kate made me feel at ease and really helped build my confidence. I would definitely recommend her and already have done! The LDC learning system workbook and DVD's were great and helped a lot throughout my lessons and in preparing for my test. Thank you Kate!!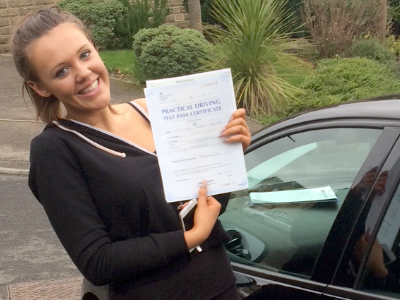 Holly Willsdon
Thank you Kate!
I swapped Instructors after 3 months of driving as I just felt like I wasn't progressing and if anything going backwards. I thought it was me! Kate has been AMAZING! I've rally enjoyed my driving with Kate, she built up my confidence immediately! The LDC learning system workbook and DVD's have been incredibly helpful- and I'd recommend Kate to absolutely everybody- I think a first time pass shows it! I feel she really helped me with my own worries, and worked for me as an individual and doesn't just stay by the book.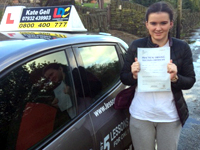 Hannah Sharp
So happy to pass as my car's been waiting on the drive!
Really enjoyed my lessons with Kate following changing from another instructor I wasn't making progress with. Kate's a great Instructor, would highly recommend.
Victoria Boome
Delighted with my pass!
Testimonial pending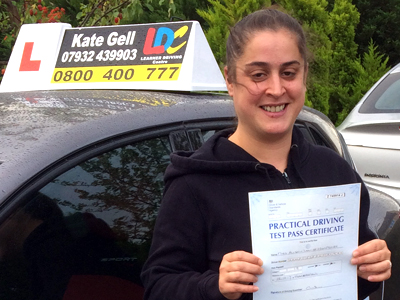 Alison Hampshire
I can finally do the school run for my 4 kids by car!!
Kate was brilliant she gave me all the confidence to do it, I really can't thank her enough! I had a string of 7 fails 20 years ago and it destroyed my confidence and I gave up. My sister in law recommended Kate and we met up in June and discussed all the options and decided a one week pass course would be best once the kids were back at school as I am non stop with them. The LDC learning is really good - the workbook and DVD's came as part of the course and I found them really helpful and easy to understand. I can't believe I've passed and can finally do the school run by car!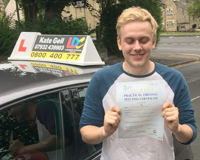 James Poppleton
1st time pass after 30 hour Intensive Course
Kate as an Instructor was fantastic. She gave clear instruction and guidance. Instruction was delivered calmly and allowed me to settle. I wouldn't have passed Intensively if not for Kate's tuition. The LDC Learning system workbook and DVD's were a valuable tool that allowed me to be confident while driving as it meant that I already had knowledge of subjects covered and the manoeuvres before beginning my Intensive Course. My theory was already passed before the course.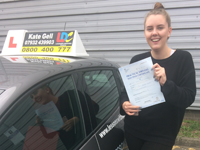 Jenny McMaster
Celebrated with a KFC!
Kate is a very professional yet personal driving Instructor, she helped me get out on the road through gaining my confidence and with lots of positive improvement my confidence grew, now I am absolutely delighted to have passed my test, I'm going car shopping tomorrow! Thank you Kate :)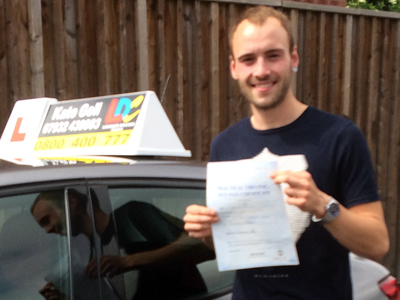 Josh Haigh
Delighted to pass
I did a 20 hour midway course with Kate following 23 hours with LDC Instructor Cath Crowther. I would recommenced Kate of LDC to anyone, as she is very friendly and supportive and helped with anything I struggled with. The LDC training system is great at explaining in detail every aspect of driving along with the workbook that describes every part of the lessons I had. I found the whole experience very informative, which prepared me for the standard of driving the test centre expects. overall it's been a brilliant experience and I am so pleased to have passed!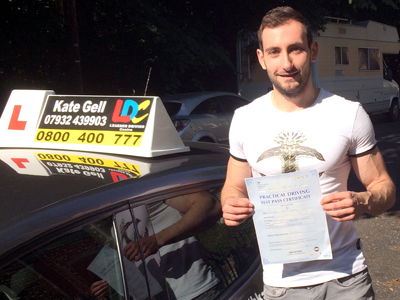 Chris Green
Passed 1st time!
I did the 30 hour semi-Intensive course with the LDC Learning System-workbook plus theory and practical test DVD's. I found the theory work very helpful compared to other resources available, enabling me to get 50/50 and 65/75 on my test. The Instructional practical DVD's were very useful and informative and used alongside with the workbook complemented the lessons perfectly, saving time and making the lesson more comfortable for me I felt. Kate was a very good Instructor who explained all aspects of the lessons thoroughly and provided clear answers to any of the questions I might have had. Having only had a few hours of lessons 8 years previously I could tell the difference straight away in the level of training.
Call today on 07932439903 or Email me to find out more
If you have any questions or to book lessons today, feel free to contact me